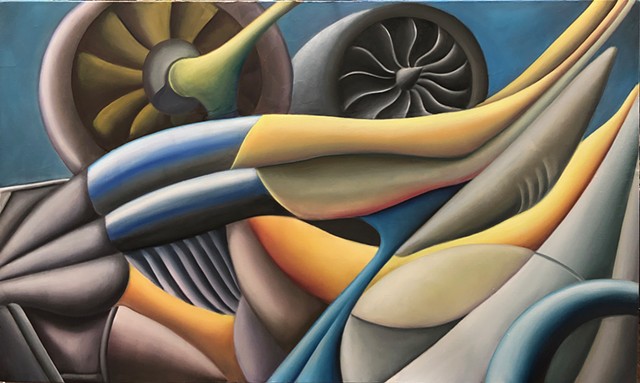 David Joseph is a Chicago based artist and curator.
A balance between form, color and movement are the the main concerns of all of my work. An abstract painting has to follow all the same rules as realism to be successful. Although my work in no way resembles Vasily Kandinsky, his thoughts on composition have had a profound impact on work.
While composing these paintings, my goal was to blend the realism of form and the abstraction of space, to evoke thoughts of things both familiar and alien.
I studied chemistry and art at the University of Pittsburgh and studio arts at the Art Institute of Chicago.
Before the age of 30, my work was all charcoal, pastel and pencil drawings with a concentration on the human figure. These drawings became more expressionist as I got older. At this point I started studying at the Art Institute of Chicago and started painting in oil as well as drawing. This was also when my work moved away from the figure and I started to explore abstraction.


In 2006 and 2007, I curated the group exhibitions for Greenleaf Art Center, where I had my studio, and in June 2007 I took on the same role with the now defunct Gay and Lesbian Artist Network of Chicago (GLANCe). Since 2007, I have been the curator for the galleries at Center on Halsted. In 2014, I moved my studio to the Pilsen neighborhood and started DECA Studio with originally two, then four friends. We have both expanded in space and members to nine.